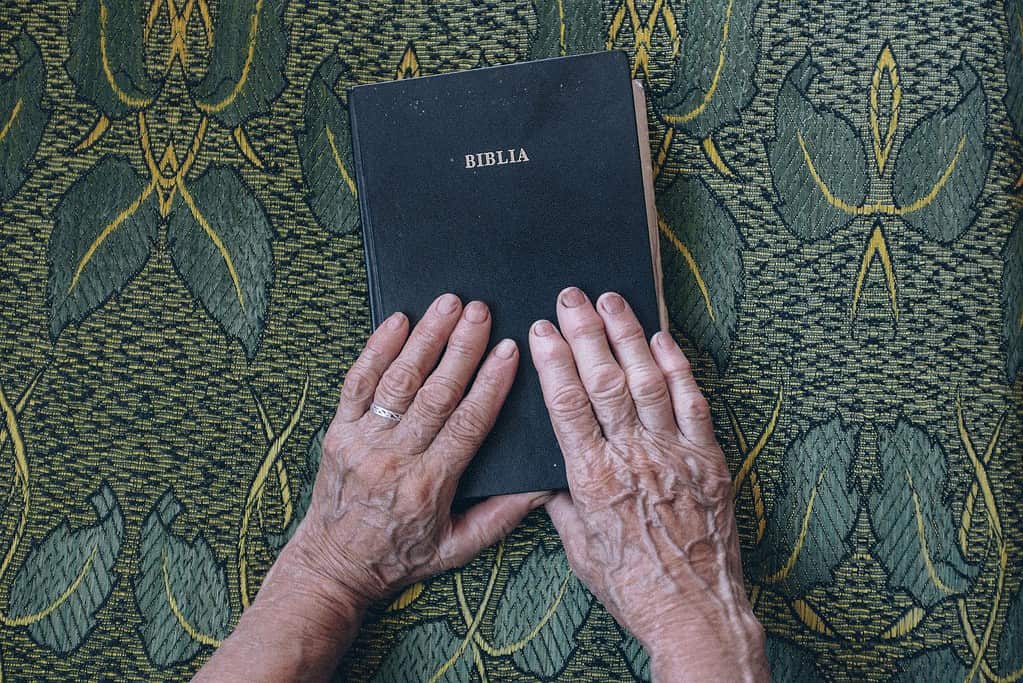 Conspiracy theories have gained significant traction in recent years, fueling division and discord within society. From the spread of misinformation surrounding the COVID-19 vaccines to the misguided belief in a stolen election that led to the January 6 insurrection at the U.S. Capitol, the consequences of conspiracy thinking are becoming increasingly far-reaching and dangerous.
These concerning developments prompted a pair of political scientists from Hutchinson Community College and Berry College to look more into this.
In a recent study, the researchers found a significant correlation between Christian nationalism, biblical literalism, and the propensity to believe in conspiracy theories. Their findings provide valuable insight into the sociocultural factors that contribute to the spread and persistence of conspiracy beliefs in certain populations.
The word of God
Biblical literalism is an approach to interpreting religious texts, such as the Bible, in a strictly literal and word-for-word manner. It involves the belief that the Bible is an accurate historical and scientific account, and every passage should be understood as directly and precisely true.
However, the literal interpretation of the Bible often clashes with science. Some examples include:
Creation of the Universe: Biblical literalists often believe in a young Earth based on a literal interpretation of the Genesis creation narrative, which suggests the Earth is only 6,000 years old. The scientific consensus is that Earth is approximately 4.5 billion years old, based on various dating methods including radiometric dating.
Evolution: The theory of evolution, which is generally accepted in the scientific community, posits that all species of organisms arise and develop through the natural selection of small, inherited variations that increase the individual's ability to compete, survive, and reproduce. This is in contrast to the biblical account of creation, which suggests that all creatures were created in their current forms. All birds, insects, dogs, dinosaurs, and of course humans magically spawned at the same time.
Global flood: The story of Noah's Ark and the global flood is often believed to be a   historical event by biblical literalists. However, this contradicts geological evidence which shows no signs of a worldwide flood occurring within the timeframe suggested by a literal interpretation of the Bible.
Astronomy: Biblical literalism often involves a geocentric view of the universe, with Earth at the center. This is in contrast to the scientific consensus of a heliocentric solar system and a vast universe with billions of galaxies.
Miracles: Many biblical stories involve miracles that defy the laws of nature, such as Jesus walking on water or the parting of the Red Sea. These events are seen as literal historical events by biblical literalists, but they contradict our scientific understanding of the natural world.
According to a 2022 Gallup poll, 58% of Christians say the Bible is the inspired word of God but not every teaching should be taken literally. Another 29% say it is just an ancient book of fables, legends, history, and moral precepts recorded by the people of the time.
About 20% claim that the Bible should be interpreted literally, word for word, a figure that is decreasing with each passing year. In 1984, the fraction of Christians who were biblical literalists stood at 46%.
Christian nationalism, on the other hand, is a political ideology that combines Christianity with a sense of national identity and seeks to establish a close relationship between religion and the state. It views the nation as fundamentally rooted in Christian values and principles, and it often advocates for policies and laws based on those beliefs.
The U.S. is officially a secular nation with a separation of church and state. Religious liberty is enshrined in the U.S. Constitution. However, Christianity has always had a significant influence on its culture, laws, and policies.
In recent years, Christian nationalist groups have become increasingly influential. Previously, they've worked to push state legislature that promotes the teaching of the Bible in public schools or to require the posting of "In God We Trust" in public schools and other public places.
Religious fundamentalism and conspiracy thinking: what's the connection?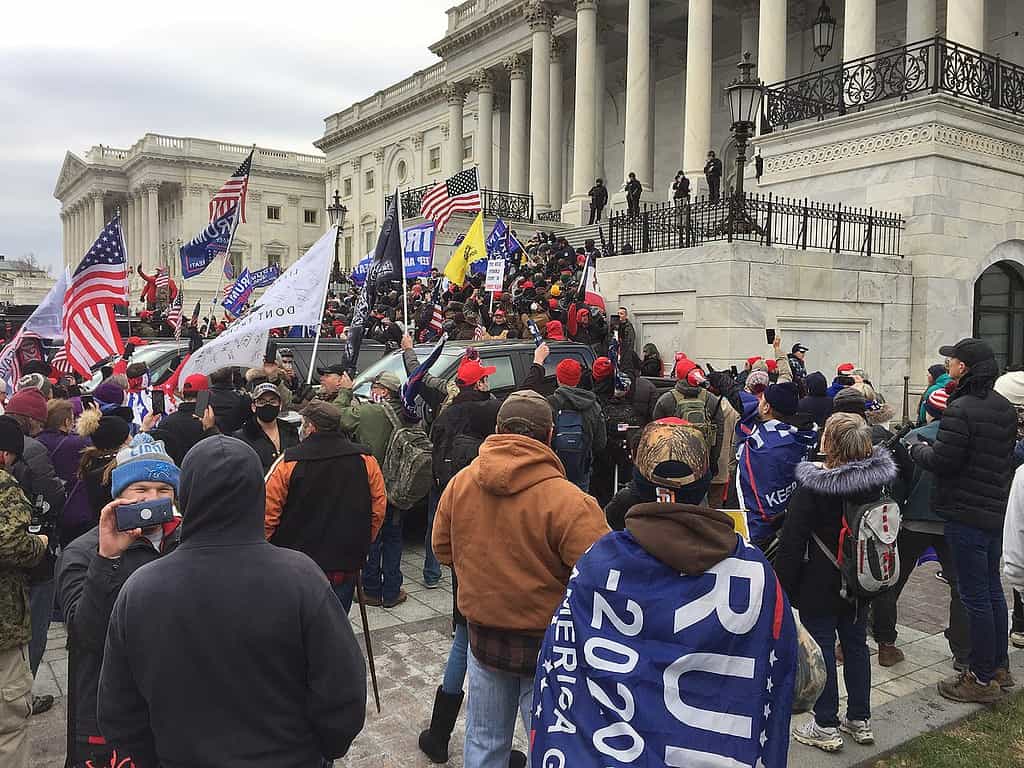 The researchers, led by Brooklyn Evann Walker, an instructor of political science at Hutchinson Community College, were spurred into action by the growing concern over the harmful effects of conspiracy theories.
"Like many, we were deeply affected by the sharp divisions, fueled by conspiracy theories, that arose around COVID-19 and the 2020 presidential election," Walker told Psypost.
"We noted that conspiracy theories related to both COVID-19 and the Big Lie gained traction in religious communities that tended towards biblical literalism and Christian nationalism, leading us to wonder if either of these two aspects of American religion (biblical literalism and Christian nationalism) were related to a broader tendency for Americans to think in conspiratorial ways."
To unravel this mystery, the researchers turned to the 2019 wave of the Chapman University Survey of American Fears (CSAF). This survey, administered online to a nationally representative sample of American adults, included measures of Christian nationalism, biblical literalism, and various demographic variables.
The survey asked respondents to indicate their level of agreement or disagreement with the idea that the government is concealing information about different events.
These events included conspiracy theories related to government cover-ups of extraterrestrial life, the belief that the 9/11 attacks were not solely carried out by terrorists but involved government involvement or a cover-up, belief in a secretive group or organization that controls world events (e.g. the Illuminati), and more.
The study found a positive association between Christian nationalism and belief in conspiracy theories. In other words, individuals who held stronger Christian nationalist beliefs were more likely to endorse conspiracy thinking. This relationship held even when a fictional conspiratorial event was introduced in the survey, indicating a general propensity for conspiracy thinking.
The study also suggests that biblical literalism plays a role in shaping conspiracy thinking. Those who adhered to a literal interpretation of the Bible were more likely to adopt conspiracy thinking. Moreover, biblical literalism was found to amplify the effect of Christian nationalism on conspiracy thinking.
"Christian nationalism links being Christian to being American. In the view of many Christian nationalists, this linkage is threatened by secularization and other social changes. Biblical literalism is the belief that each word in the Bible should be accepted as God's word spoken directly to readers, not to be filtered through religious elites," Walker told PsyPost.
These findings held even after controlling for demographic variables such as race, gender, age, education, and political leanings. The researchers found that conservative ideology was correlated with conspiracy thinking. Meanwhile, attending religious services had a negative relationship, possibly due to the social capital and trust-building aspects of religious engagement.
"We were surprised at the effect sizes we observed. When occurring together, biblical literalism and Christian nationalism had a much stronger effect than well-established predictors of conspiracy thinking, like education," Walker said. "It's also important not to lump all religious activity together — religious service attendance was consistently associated with less conspiracy thinking."
This study is not alone in its findings. A related study found that Christian nationalism is a strong and consistent predictor of Americans' attitudes toward science. It suggests that political conservatives are more likely to be concerned with particular aspects of science, such as human evolution, primarily because they are more likely to be Christian nationalists.
In a recent study on the QAnon conspiracy theories, researchers found that the number of those who adopt the QAnon conspiracy theories is increasing. Some of the movement's adherents are religious people, members of Christian parishes or congregations.
While acknowledging certain limitations in their research, such as the need to explore additional psychological factors influencing conspiracy thinking, the researchers urge further investigation into the broader implications of Christian nationalism and biblical literalism on conspiracy beliefs.
As society continues to grapple with the complex landscape of belief systems and their impact, studies like these provide valuable insights that can help foster understanding and dialogue.
The findings appeared in the Journal for the Scientific Study of Religion.
Thanks for your feedback!