The most detailed map of Greenland's topography was released this week by a team of British and American researchers. An accompanying video simulates what the massive island would look like if it were free of ice. Speaking of which, the new findings suggest that Greenland's ice sheet has the potential to contribute more to global sea level rise than believed.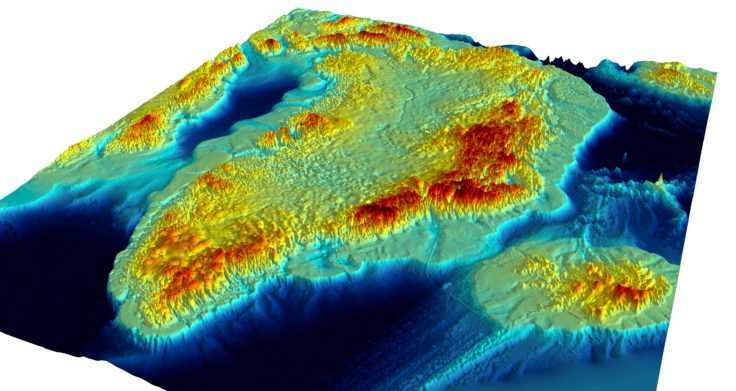 Greenland's ice sheet is immense. Covering more than 660,000 square miles, thicker than a mile, and measuring a volume of 684,000 cubic miles, it would drown anything lower than 25 feet (~7.5 meters) above sea level were it to melt.
The new map carted by researchers at the British Antarctic Survey (BAS), the University of Bristol, and the University of California at Irvine (UCI), now offers a glimpse of what the island's topography looks like under that huge blanket of ice.
We can see streams on top of valleys carved by water that used to flow well before the ice sheet even existed. The valley system creates perfect lubricating conditions for meltwater to run off and discharge into the ocean. What's more, Greenland's topography could foster the creation of more channels in the future, further speeding up the run-off.
Already, Greenland lost 269 billion tons of ice each year since 2002. According to an earlier study, meltwater sourced from Greenland's ice sheet accounted for 25 percent of the global sea level rise in 2014.
This refined view also shows that Greenland's ice sheet is thicker than previously thought, in some places by up to 100 meters.
"This new compilation of the 3-D landscape beneath the Greenland Ice Sheet provides the first seamless transition between the landmass and its adjoining seabed, and this gives scientists a bird's eye view of the fringes of Greenland which are experiencing the most changes," said BAS cartographer Peter Fretwell, who was involved in producing the printed map.

"What's also surprising is that there is more ice and the bed is deeper in some places than previous maps suggest, so this means the total contribution from the ice sheet to global sea level rise would be 7.42 meters if it were to melt completely, slightly higher than previously calculated," he added.
To make this detailed map, scientists employed data collected by different instruments operated by over 30 institutions worldwide. This includes data collected by satellites, airborne and ground-based radar, as well as seabed mapping from ships. A printed 1:3,500,000 scale version was presented this week at the American Geophysical Union meeting in New Orleans. A summy of the paper has been published in the journal Geophysical Research Letters.
"This map will improve our understanding of the ice-ocean interactions and how the ice sheet will evolve in a changing climate," said glaciologist professor Jonathan Bamber at the University of Bristol who had a NERC-funded project to develop the printed map and data set.
Another study published on Wednesday in Science Advances found that in 2003, the ice sheet over Greenland suddenly began melting at a much faster rate. For instance, ice sheet run-off into the Tasersiaq catchment, which spans more than 2,500 square miles, increased by 80 percent compared to the average runoff rate in the decades prior. This suggests that global warming, though increasing gradually, can set off sharp, massive shifts in ice melt.
Thanks for your feedback!