Men are from Mars and women are from Venus, or so the old adage goes, but how different are men and women? I won't go into debates like whether or not men and women are neurologically the same - it's a far too exhaustive and exhausting subject for such a short article. Clearly, however, men and women are different in biological terms, and going beyond physical differences, there are numerous hormonal interactions that greatly vary between men and women. For instance, men may be wired to go to greater lengths than women to have sex, if we're to judge from the findings of a recent study which found male roundworms would rather mate than gobble food.
Sex or food? It might not be a matter of opinion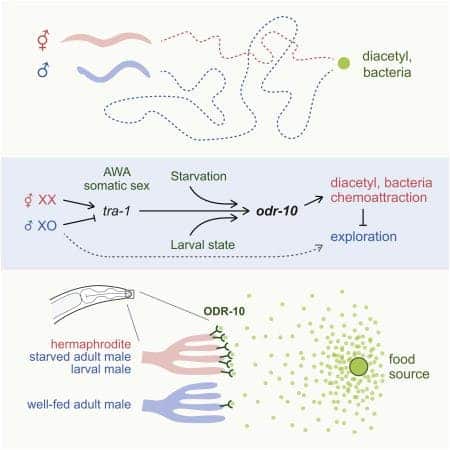 Both feeding and mating are deeply etched into our biology, being essential to survival and reproduction, so choosing between the two can be a tough judgement call. Simple, yet subtle changes to the brain circuitry can make this decision easier, according to the findings of a group of researchers at University of Rochester published in Current Biology.
"While we know that human behavior is influenced by numerous factors, including cultural and social norms, these findings point to basic biological mechanisms that may not only help explain some differences in behavior between males and females, but why different sexes may be more susceptible to certain neurological disorders," lead author Douglas Portman said in a press release.
The researchers studied Caenorhabditis elegans, a type of microscopic roundworm and favorite lab pet for researchers studying anything from genetics, to diseases, to immortality. It's important to note that there isn't a clear distinction between males and females when C. elegans is concerned. The females are actually hermaphrodites, meaning they're able to self-fertilize, but that doesn't necessarily stop them from seeking mating partners in males, and as such are considered to be modified females.
The team focused on the roundworm's sense of smell, which they used to probe their suspicions that male and females are wired differently. The Rochester researchers placed hermaphrodites in the center of a petri dish with some food, with an additional ring of tempting food surrounding them - an obstacle for the males placed at the edge of the dish. The males either had a normal genetic profile - the control group - or overexpressed the chemoreceptor ODR-10, related to the worms' sense of smell and found to control their decision between food and sex.
The normal males made a B-line for the hermaphrodites at the center of the dish. The hermaphrodites produce ODR-10 receptors, making them more sensitive to food, which explains why they didn't stray from their food, unlike the males. Given the choice between overexpressing ODR-10 and maintaining normal levels, males opted for the latter 10 to one, researchers say. The findings rang true to the researchers' predictions - males prefer sex over food. At least male worms, but are we humans any different? This is definitely a lot harder to test, but the conclusions are nonetheless very interesting.
Thanks for your feedback!