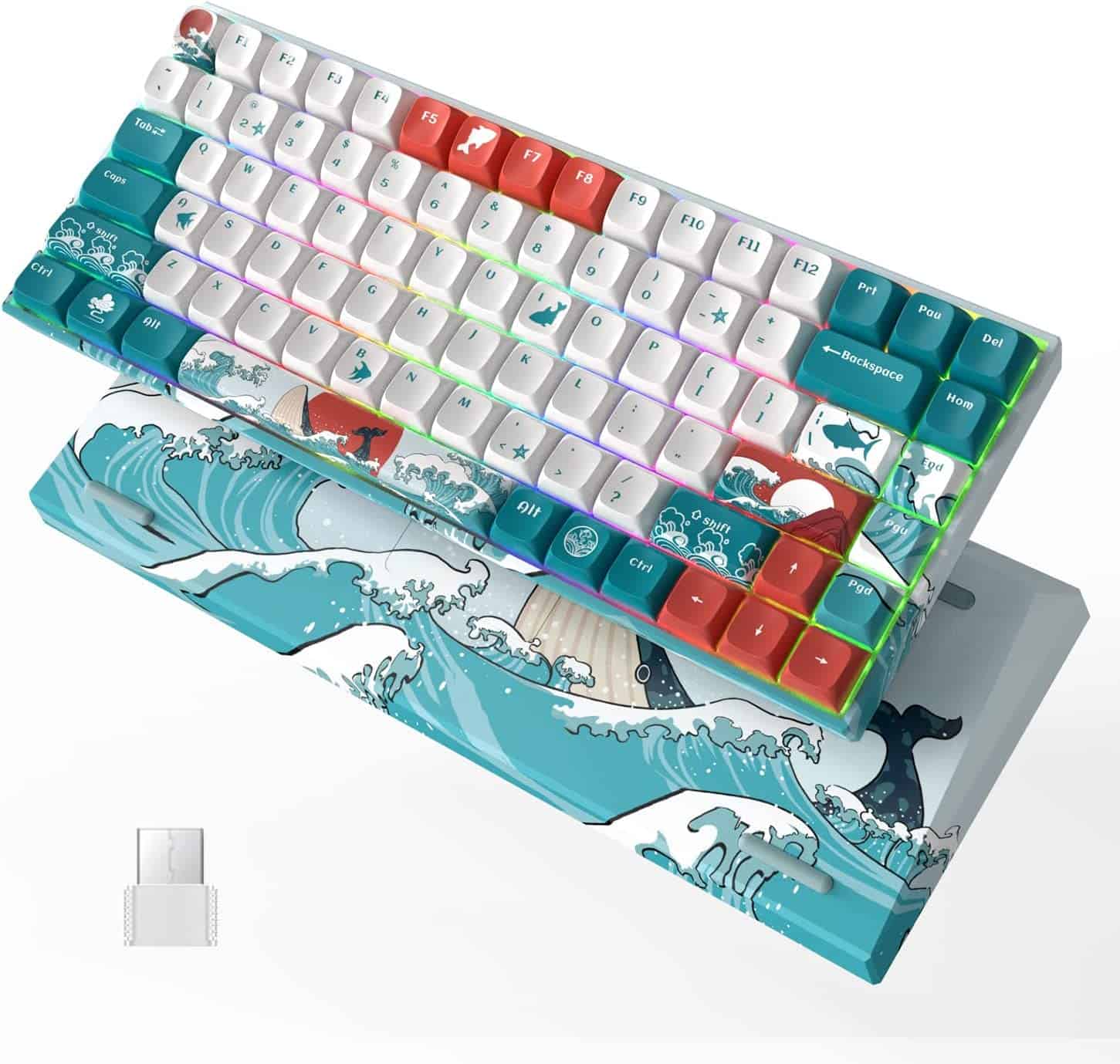 Welcome to the curated gallery of mechanical keyboards, where art meets functionality. There are hundreds or thousands of good mechanical keyboards, but aesthetic mechanical keyboards -- not so much.
Here, you'll find selections that cater to various aesthetics – the soft pastel hues for the girly at heart, the understated cool of lo-fi for the indie souls, the RGB-infused adrenaline for the gamers, and the vintage charm for the retro aficionados. I've tried to find the best aesthetic mechanical keyboards.
A keyboard is more than just a tool. In the digital realm where life and work unfold, it's our primary tool of expression. It can be a statement of personal style, a reflection of mood, or even an embodiment of a chosen aesthetic. It's almost an extension of our thoughts, ideas, and our very self.
I've tried to mix and find the best keyboards for aesthetics and performance. Of course, different people have different preferences -- I've tried to add something for everyone. Whether you're typing the next bestselling novel, coding the next big app, or gaming with your online squad, these keyboards promise a delightful and stylish experience. Let's dive into the vibrant world of aesthetic mechanical keyboards.
Stay tuned as we play a symphony of clicks...
My favorite aesthetic mechanical keyboards
Ever since I was a kid I enjoyed typing. I entered typing contests, played typing games, and having a good keyboard is pretty high on the list for me. I'm not a purist in almost anything -- but I'm a purist when it comes to my keyboard.
Before we delve into the vast array of different aesthetics you can get with mechanical keyboards, I'll share a few of my favorites. Personally, I'm not strict with my workspace aesthetics and I prefer a harmony of form and function. Simply put, I like good craftsmanship as well as creative design and aesthetics. I type a lot (as you can see here) so I need my keyboard to work well in addition to looking great.
This being said, I prefer keyboards that adorn my desk and make my workspace (which is also my playspace) a pleasure to look at. I spend a lot of time here, so why not make it as enjoyable as possible? So before we explore the various aesthetic styles, here are a few of my personal favorites.
Cute aesthetic keyboards
Who said your desk can't be fun and cute? Super cute keyboards were almost non-existent a decade ago but now, there's a spectacular selection to choose from. These whimsical keyboards, with their eye-catching design and playful vibe, are a testament to the fact that technology and cuteness can, indeed, go hand in hand. They are not just tools, but companions that bring a smile to your face every time your fingers dance on the keys
Often, these keyboards are paired with matching accessories like pastel mouse pads, wrist rests, and even desk mats to create a cohesive and adorable workspace. Here are some of my favorites.
CC MALL Retro Steampunk Vintage Mechanical Keyboard
Keyboards simply don't get much cuter than this. If you want a keyboard that looks like candy but also functions very well, this is it.
The CC Mall has an authentic mechanic keyboard feed, with satisfying "clackety" sounds and a very tactile feel to it. The key shape takes a bit of getting used to, but once you do, it's better than many keyboards that come at a higher price tag and don't look nearly as good. I particularly like that it's not overly sensitive and it reduces the chance of double-typing.
This being said, just look at it. It's the cutest keyboard you can imagine. You can control the backlight and other lighting effects, and of course, it's fully customizable. To make it even better, even the packaging and kit are pink and cute.
Womier K61 60% Mechanical Keyboard
If you like this style of playful design, the Womier is excellent. The vibrant RGB lighting permeates through the keyboard and the unique design looks great on the acrylic base. The "thock" sound feels satisfying when typing. The keyboard is beautiful and it works well, it doesn't take up a lot of space and it fits into an urban-cutesy-gaming kind of style.
The software is easy to use, though not quite as customizable as that of other keyboards on this list. The keyboard is not wireless but it does come with its own cable and it shouldn't cause any organizing problems.
Ultimately, this is a solid, cost-effective keyboard you won't go wrong with. It's just about whether the aesthetic is what you're looking for.
YUNZII Macaron 84-Key Wired Mechanical Gaming Keyboard
Yet another visually stunning keyboard, the Yunzii Macaron is just adorable. But don't let its looks fool you -- it's cute as a button and yet pretty solid and robust.
The keyboard features a compact 75% layout with 84 keys and is built to be ergonomic, aiming to prevent fatigue even after prolonged use. It also features macro recording and customized RGB effects, and is compatible with both Mac and Windows operating systems.
Of course, the main appeal of this mechanical keyboard is its cute aesthetics. I mean, look at that MACARON space bar ❤. If you want that cutesy appeal on your desk, I think there's just no better option.
EPOMAKER EP 84
If you're looking to bring that Lofi feel to your keyboard, this is absolutely it.
The colors were bright and you can even change them without a PC. The keyboard is of good quality​ and it's wireless. The Bluetooth works fine as far as we can tell, with very minor blips, and the overall aesthetic is truly amazing.
If anything, this small cute keyboard packs quite a punch: if I'd change something about it, I'd probably make it a bit less noisy.
Aesthetic gaming keyboards
GT61 Mechanical keyboard
For such as small wireless keyboard, the GT61 is solid as a rock. Its build is impressive, which is all the more remarkable given its relatively low price tag.
The RGB lighting is cool and it creates the gaming vibe and makes for a really good experience.
The keycaps are pretty thin, but overall, I'd say the keyboard feels really good for gaming. If we're taking aesthetical keyboards for gaming, this would probably be my first pick.
AULA Mechanical Gaming Keyboard
It's surprising what this much money can get you when it comes to gaming keyboards. But if you're looking for a good cost-quality-aesthetics mixture, this is a good place to start.
What I like about the AULA is that it's kind of unfussy, and yet still very aesthetic. It's simple, sturdy, and the keys feel good when you press them. The orange and black work really well together, and the RGB lighting is very funky.
The keys are very responsive, which makes them great for gaming, and the solid build quality doesn't seem to mind key bashing at all.
MageGee Mechanical keyboard
If you're looking for a more classical gaming keyboard, or simply are looking for a simple gaming aesthetic on your keyboard, this is probably the right option.
The MageGee doesn't strike you as a gaming keyboard at first, but the lighting hits really well and if you're looking for something less flamboyant, it's an excellent product.
For me, this was the biggest surprise on the list. I wasn't expecting to like its aesthetic, but somehow, it just clicks. Function-wise, it's excellent -- 10/10.
Pink aesthetic keyboards
It was honestly surprising to see the great variety of good-quality, aesthetically pleasing pink keyboards. Even if pink is not your jam, there's something just very pleasing about some of these keyboards. However, pink keyboards are often part of a larger "pink aesthetic" setup, which might include a pink mouse, mouse pad, computer case, and other accessories. If that's what you're going for, you can't really miss out on one of these keyboards.
I've found dozens of good models, so it was pretty hard to settle in on a few. I also tried to go for some variety. Some keyboards have pink keycaps, while some models might also feature pink backlighting or a pink chassis. The specific shade of pink can vary, with some keyboards using a soft, pastel pink and others using a more vibrant, hot pink. Some pink aesthetic mechanical keyboards also incorporate other colors into their design, such as white or rose gold, to complement the pink.
Here are my favorites.
Akko World Tour Tokyo
This keyboard is as functional as it is adorable, and with its Japan-inspired keycaps, it can transform the aesthetic of a desktop by itself.
The top row of number keys can be replaced with decorative keycaps, and the space bar features an adorable wrap-around Mount Fuji design. The keyboard uses switches available in a variety of colors, including blue, brown, and red. It can be connected physically with a USB-C cable or wirelessly with Bluetooth 3.0.
The producer also makes an 84-key version of this keyboard that features the function key row and a 108-key version that also features the number pad as well as the function keys. However, for its unique look, I felt this smaller one is the best.
MOTOSPEED Professional Gaming Mechanical Keyboard
This compact and stylish keyboard is not just about aesthetics, it also places functionality at its core. The pastel pink keyboard features excellent keycaps, making it a fantastic fit for both work and play.
The keyboard has good build quality, but it doesn't feel quite as sturdy as some of the other keyboards on this list. Still, when I press it, the touch is surprisingly light and pleasant. It's my type of keyboard feel.
The price is insanely good for the quality, and while some users have complained about durability for periods of 2+ years, I haven't seen any signs of that (though I haven't used it for as long).
Hexgears GK715
Most keyboards on this list a small and compact, lacking some of the function keys and the numpad. But for the Hexgears GK715, I absolutely love the full size.
Many things about it feel premium to me. The touch, the 'clack' in the sounds, the build, it's a pretty good deal for what you get. Plus, the vanilla-strawberry aesthetics is just delicious.
I also dig that it's wireless. Not every keyboard here is wireless, but this one is, and less wires are always good. I haven't seen any problems with the wireless function, it's pretty reliable on that end.
The one thing I don't recommend this keyboard for is gaming. Honestly, it felt really good in the beginning, but then, I noticed that it sometimes misses some presses. Maybe it's my style of pressing and not pushing hard enough, I haven't really tried to customize it all that much, but it's something to be aware of. It likely won't be a problem unless you really mash keyboards (and even then, it happens rarely). Overall, this is a really cool keyboard.
Retro aesthetic keyboards
Retro aesthetic mechanical keyboards are a blend of modern technology and vintage design. They're cutting-edge technology wrapped in a nostalgic package, sometimes reminiscent of typewriters or early personal computers.
I'm expecting retro keyboards to appeal to the computer-savvy, and producers seem to feel the same way. The functionality and performance of these keyboards are stellar. Let's dive in.
Nuphy Halo 65
The nuphy Halo65 (from 65% size) layout offers a minimalist design, and the warm backlighting invokes a cozy, vintage vibe. The RGB lighting is vibrant and customizable, and the keys are responsive and comfortable to type on. The battery life is also impressive. It's super high quality and it shows that.
The only thing that was mildly annoying was the connectivity. I'm not sure why, but sometimes, it seems to disappear for a few brief moments. I only tried this a little bit but other reviews also mentioned the issue. Overall, if you're not gaming on the keyboard, it shouldn't really be an issue.
Despite this, I'd recommend the keyboard strongly. The only big issue I have with it is its price, but you can find discounts and offers potentially.
iQunix A80 Gaming Keyboard
This does look like a retro keyboard but it comes with a twist: when the backlight goes on, it completely changes the look of it. This is pretty neat because the keyboard itself is very customizable, so it's a case of looks matching function.
In terms of typing, the keyboard seems flawless to me. I feel that some keys have a different sound compared to others, but I couldn't find any issues with it. Simply put, this is an excellent keyboard all around. Even if you're not into the aesthetics, you can't really go awry with it.
nuphy Air75 Mechanical Keyboard
I really dig nuphy keyboards. Not sure why, there's just something about them that resonates with me. This one is also very good build quality and pleasing to type on. Yet again, you can go wireless with it, so that's an added bonus.
I've read reviews that mention Mac connectivity problems -- I don't have a Mac so I haven't been able to replicate that. However, on Windows, things seem to work well.
AK510 Retro Mechanical Gaming Keyboard
If you're looking for a keyboard that looks not just retro, but old-school, the AK510 Retro Mechanical Gaming Keyboard checks the boxes. At first glance, it seems like a keyboard from the 90s, but yet again, the technology is all modern and high-quality.
What's doubly interesting about it is that it doesn't just mimic the look of retro keyboards, but also the height. The keys are tall just like old-school keyboards used to be. In other words, it doesn't just mimic the aesthetics of retro keyboards, but also the feel.
This could be an issue for some people, but for people looking for a truly retro keyboard, this is a pretty important detail. Overall, the quality is sturdy and reliable. It works for gaming, typing, whatever you want without any issues.
Typewriter aesthetic keyboards
Initially, I had these under "retro aesthetics keyboards", but upon seeing just how popular this type of mechanical keyboard is, it deserved its own category. I'm not a fan of the rounded keys myself, but in terms of aesthetics, these typewrite keyboards have undeniable pizzaz.
Camiysn Typewriter Style Mechanical Gaming Keyboard
At first glance, the keyboard seems almost like a gimmick -- a product aimed only at typewriter fans. But one touch and you realize that's not the case. The Camiysn is surprisingly pleasant to type on, it's got a really good feel. It feels retro and futuristic at the same time and I was charmed by it pretty fast.
It comes in several variations (yet another pink keyboard, you guys) and the aesthetics and price of it alone make it worth. But I did feel that some keys, if you push on them strongly, are a bit wobbly. Not sure how big of a problem this will turn out to be in the long run, if at all. Overall, the build is high quality and I'd recommend it.
RK ROYAL KLUDGE RKS87 Typewriter Mechanical Keyboard
There's only so much a typewriter-type keyboard can do to differentiate itself, but the RKS87 does it. The lighting, the compactness, and the fact that it's wireless all collaborate on this end, creating a surprisingly pleasant typing experience. I think some people will find the 'clack' sound a bit too loud, but for me, it was pretty satisfying.
The only issue I've had with it is minor connectivity issues. However, that's a minor nuisance. Presumably, if you're getting a retro keyboard, you're not getting it for gaming.
Cool aesthetic mechanical keyboards
I'll admit it, I wanted another category and wasn't sure what to call it.
There were dozens of keyboards I wanted to list here. Painfully, I've narrowed it down to only a few. These are the best aesthetic mechanical keyboards that didn't fit anywhere else.
EPOMAKER CoolKiller CK75 75% Transparent Gasket
If you're looking for a mechanical keyboard with unique aesthetics -- this is it. The transparent gasket is neat enough, but the purple, colored keys really tie the whole thing together. Surprisingly, it's also got a very robust and good-quality build. You expect it to be flimsy, but it's not. It's a solid, robust keyboard. It's not too loud, just the right size, and very functional.
The price tag is a bit steep. It's not hard to see why and it's probably worth the dime, but it is a lot.
DUSTSILVER K84 Hot-Swappable Wired 75% Kawaii Mechanical Keyboard
There don't seem to be that many reviews for this particular keyboard, and it's a shame. It's just so darn cute! Typing felt silky smooth and the thocky sound is a delight to my ears. The casing is rock solid and the entire keyboard feels quite heavy -- but I like it that way. I want my keyboards built like a tank. They're the workhorses of any PC after all. I'm still blown away that this kind of quality in a mechanical keyboard is available for this price range.
COSTOM XVX M84 75% Wireless/Wired Mechanical Keyboard
We couldn't miss out on a wave/anime/Japanese theme keyboard now, could we? The aesthetic on this keyboard is simply stunning, and the keys are hot-swappable if you want to customize it even further -- though seriously, why would you?
The build quality is also pretty good, especially for such a compact and neat keyboard. The lighting works, the battery life is good, and it's not even that expensive (compared to other products on this list). If you're looking for a mechanical keyboard that checks all the boxes, from the typing feel to aesthetics, and from robustness to compactness, the COSTOM XVX M84 is a must-have. Think of it as a gift for making it so far down the article.
---
In the end, there's no shortage of aesthetic mechanical keyboards. From cute and playful designs to retro and typewriter aesthetics, there's a keyboard out there that can perfectly express your personal style and enhance your digital experience. Whether you're a writer, a gamer, a coder, or just someone who appreciates good design, these keyboards offer a unique blend of form and function that can make your digital realm a little more personal, a little more stylish, and a lot more enjoyable.
Because let's face it, a keyboard is more than just a tool — it's an extension of your personality, a statement of your style, and a testament to your taste. Treat yourself. You spend hundreds of hours pressing keys, make it enjoyable. Happy typing!