SpaceX is gearing a rocket for its second mission in the last three days. The goal is to launch a satellite into orbit, and you can watch it all live.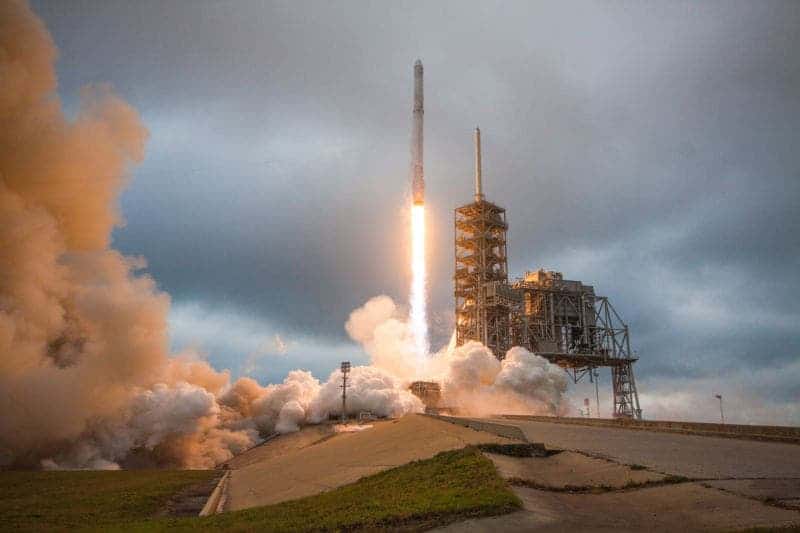 After their last launch on Monday, performed at California's Vandenberg Air Force Base, SpaceX is working on a follow-up mission, due Wednesday, Oct. 11 at the Kennedy Space Center in Florida. The two-hour launch window will open at 6:53 ET, and the final goal is to send the EchoStar 105/SES-11, a communications satellite, to a geostationary transfer orbit.
I say 'final goal' because the highlight of Wednesday's launch will be the re-usage of a previously flown Falcon 9 first stage booster. The rocket first flew on February 19th as part of a mission for NASA. It pushed a Dragon capsule laden with supplies up to the ISS and then landed along Florida's coast. This will be the third occasion ever that Musk's company launches a "flight proven" booster, a term they use to refer to previously-flown components.
The mission will serve Luxembourg-based satellite operator SES, a long-time customer of SpaceX. SES has shown a lot of confidence in the company's ability to bring safe, reusable launch rockets to the market and has previously employed a previously-flow booster -- back in the time when SpaceX's ability in this field remained largely untested.
To date, SpaceX has landed Falcon 9 first stages on 17 separate occasions, the latest being Monday's mission (Oct. 9th). If this third launch of a 'flight proven' booster proves successful, SpaceX will likely have a much easier time of finding customers for flight-proven rockets in the future.
It would also continue an impressive streak of launches and what's shaping up to be a remarkably productive year for the company. SpaceX has carried out 14 flights this year so far, and if Wednesday's mission is successful, it would allow the company to achieve its goal of 20 flights by the end of the year. That's more than any other country or company in the world has managed this year, and it's bound to make SpaceX's competitors quite uneasy.
A webcast of the launch attempt is set to begin about 15 minutes before the launch window opens -- I've embedded it below. After the first stage delivers the satellite into orbit, it will attempt to land on the droneship Of Course I Still Love You some 8 minutes and 33 seconds after launch. EchoStar 105/SES-11 is scheduled to be deployed into high transfer orbit some 36 minutes after launch.
Thanks for your feedback!