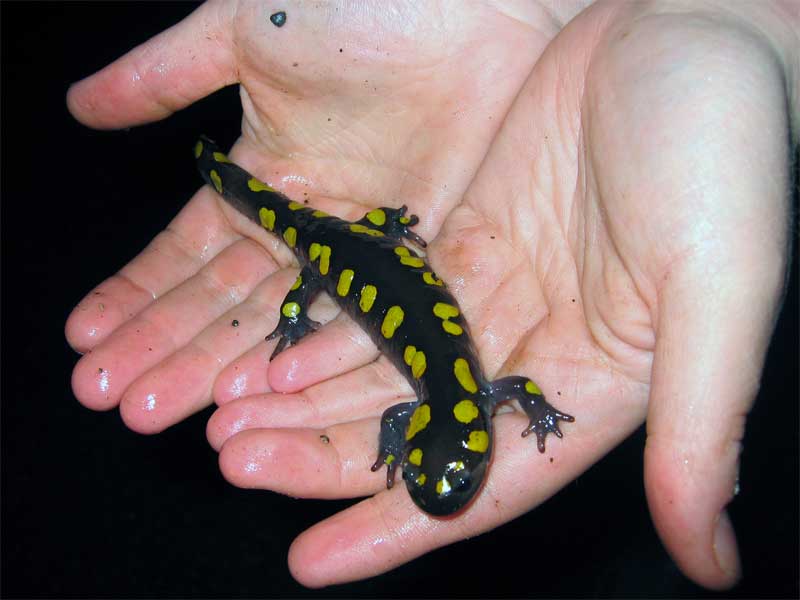 Although it looks like a regular salamander, the yellow-spotted salamander is completely unique because its embryos use the sun for energy.
They have algae inside of their cells that supply them with oxygen and carbohydrates. This feature is essential to green plants, but not at all common in animals.
Sea slugs, aphids, and hornets are some of the few creatures that share this ability. However, the yellow-spotted salamander (Ambystoma maculatum) is the only known photosynthetic vertebrate!
In fact, before scientists realized the yellow-spotted salamander is capable of photosynthesis, it was thought to be impossible.
What is yellow-spotted and secretly green?
Yellow-spotted salamanders actually look pretty normal for a salamander. As the name suggests, their skin is black with yellow spots. They're very common in North America.
However, while the embryo is developing it undergoes photosynthesis. The reason why has to do with the salamander's life history.
The adults go to pools of water to mate and breed. Yellow salamanders only breed in ponds without fish, otherwise, their larvae would be gobbled up.
But fishless ponds don't contain very much oxygen. This problem is solved by adding algae into the mix.
It has been known for a long time that yellow-spotted salamander eggs have a symbiotic relationship with algae. These eggs are bright green -- and it makes a whole lot of sense.
Only recently, a researcher from Dalhousie University in Nova Scotia discovered that at a certain period in their development, embryos contain algae within their cells. Part of the green color of the eggs comes from the embryos themselves.
The yellow-spotted salamander and photosynthetic algae: a two-way relationship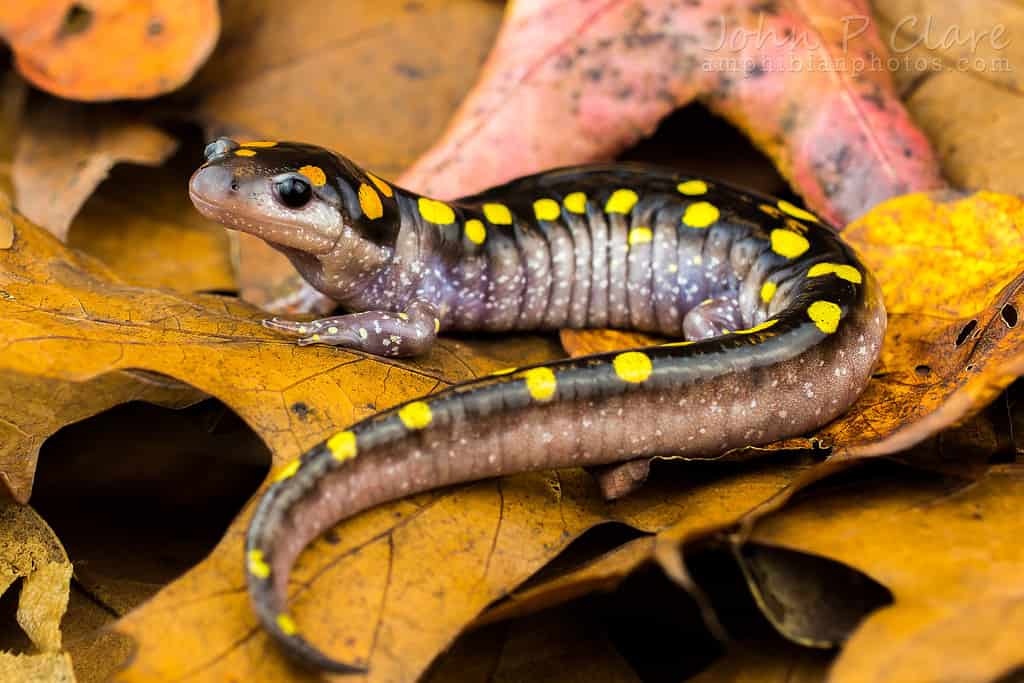 The algae only move into the embryo after parts of the salamander's nervous system have developed. Looking at time-lapse videos, you can see a flash of green at this time, which is a small algae bloom.
The developing embryo releases nitrogen-rich waste at about this time, giving the algae food. Some algae could make it into the embryo at this time.
Once in the salamander, the algae stick near its mitochondria. Mitochondria create energy for animal cells from oxygen and a metabolic form of glucose.
The algae appear to be giving oxygen and carbohydrates (the products of photosynthesis) directly to the salamander cells that contain them.
The salamander could be using these byproducts to help its own energy production. In return, the embryo gives the algae nitrogen-rich waste and CO2.
The algae have also been found in the oviducts of female spotted salamanders. The mother may have the algae already and be passing it down to her offspring by putting it into the egg sac.
"Science shows us the many ways that life is interconnected, especially on the microscopic level, where we see how many organisms depend on close contact with or internalization of other species for food, defense, or reproduction," said lead author John Burns, a postdoctoral researcher in the Museum's Division of Invertebrate Zoology.
"But the relationship between this particular alga and salamander is very unusual."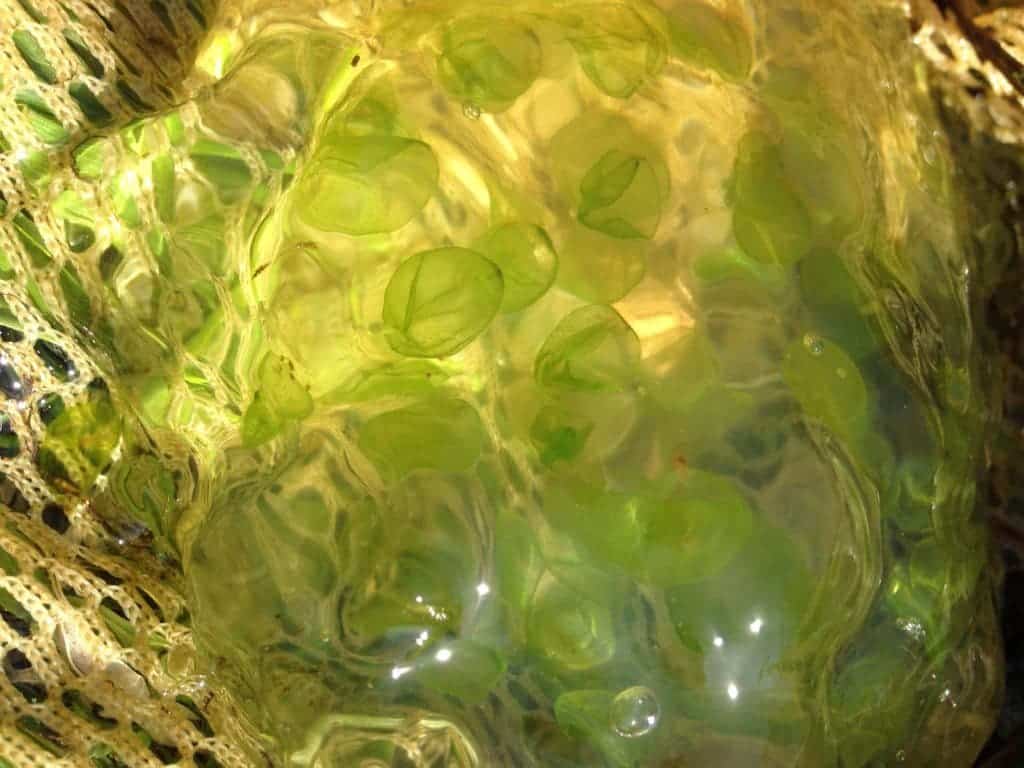 A unique ability
The yellow-spotted salamander is the first vertebrate to have a photosynthetic symbiont. Before, it was thought to be impossible because vertebrates have an adaptive immune system that should destroy any foreign biological material.
Therefore, it was believed that vertebrates weren't able to have a symbiont living in them. The spotted salamander may have gotten around this obstacle by turning their immune system off or by the algae not being recognized as foreign. However, the real answer isn't known yet.
"This is really such a strange arrangement to think about, that the salamanders allow the algae to live in their egg cases. It would be like having a bunch of green algae in a womb," said Ryan Kerney, an assistant professor at Gettysburg College.
The intricate relationship between the yellow-spotted salamander and the algae speaks volumes about the interconnectedness of life on our planet. It's a fine example of how life forms can evolve together, form alliances, and rely on one another for survival in the most unexpected ways.
As mentioned, photosynthetic animals are extremely rare and all of the other known cases are invertebrates. The others use slightly different methods to harness solar energy, most commonly by containing some form of microalgae or cyanobacteria inside of them.
For example, the emerald green sea slug (Elysia chlorotica) even has genes to sustain the chloroplasts that it contains. It can live for up to nine months without eating anything. The pea aphid (Acyrthosiphon pisum) has a fungal gene that produces carotenoids. 
A bit differently, oriental hornets (Vespa orientalis) conduct electricity from their exoskeletons, silk, and comb walls. The hornet's yellow bands contain xanthopterin that absorbs light and turns it into electricity. Unfortunately, this same material makes an inefficient solar panel.
"It raises the possibility that more animal/algae symbioses exist that we are not aware of," said Indiana University Bloomington biologist Roger Hangarter.
"Since other salamanders and some frog species have similar algae/egg symbioses, it is possible that some of those will also have the type of endosymbioses we have seen in the spotted salamander."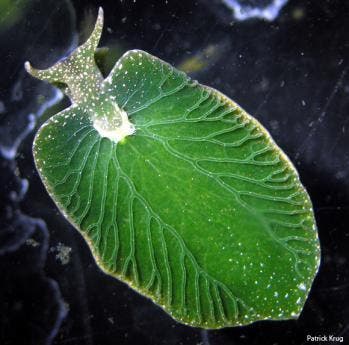 An annual pilgrimage and a secret underwater mating dance
One of the most fascinating aspects of the yellow-spotted salamander's life is their annual breeding ritual. On the first warm, rainy night of spring, they emerge from their winter dormancy to begin a mass migration. Under the cover of darkness, they journey towards the same vernal pools where they were born, driven by a homing instinct that remains a mystery to scientists.
As you walk through the woods on such a night, you might be lucky enough to see these enigmatic creatures making their way across the forest floor. Their deliberate, purposeful crawl, is a stark contrast to the chaotic dance of rain and wind around them.
Upon reaching their destination, the salamanders indulge in a flurry of courtship and egg-laying. Males perform a mesmerizing underwater dance, attracting females who then choose their partner based on his performance.
The female salamander then lays clusters of eggs, each encased in a protective jelly-like substance. The algae are already there in the vernal pool, of course. This mass of eggs, often attached to a submerged twig or leaf, will incubate in the pond until the larvae are ready to hatch.
Over the next few weeks, the eggs will transform into larvae—tiny salamanders with fringed gills, perfectly adapted for aquatic life. Only when they grow legs and their gills recede will these juveniles leave the pond, ready to embark on their solitary life in the forest.
Is the yellow-spotted salamander threatened?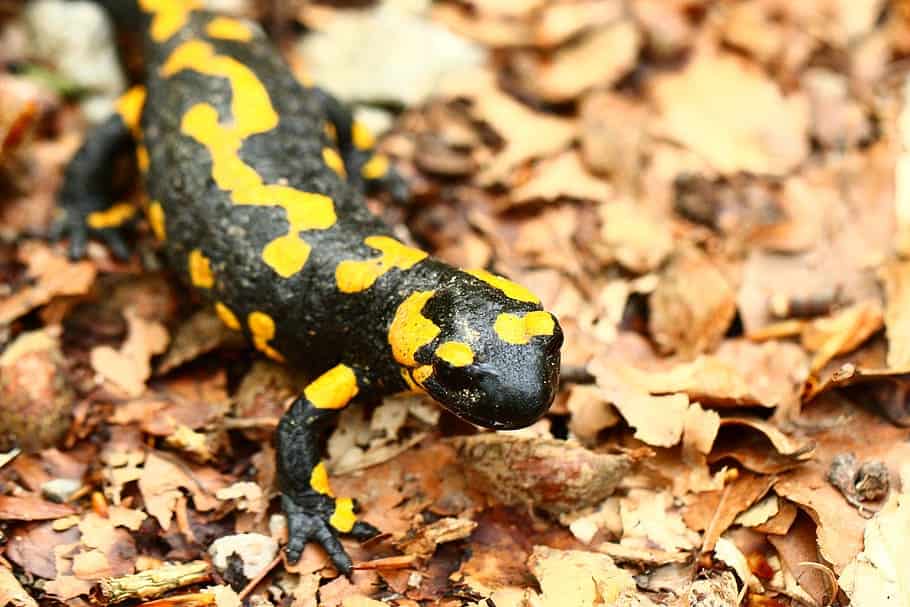 Unfortunately, the unique life cycle of the yellow-spotted salamander also makes them vulnerable. As they rely on vernal pools for breeding, any disruption to these temporary water bodies can have devastating effects. Pollution, habitat destruction, and climate change all pose significant threats to their survival.
This begs the question—how long can these hidden tenants of the forest continue to weather the storm of environmental change? Can they adapt, or will they fade into obscurity, their annual pilgrimage becoming nothing more than a forgotten dance?
Let's hope that's not the case. After all, the annual migration of the yellow-spotted salamander is not just a journey, but a celebration of life, a testament to the wonders of nature that often go unseen. At the moment, the yellow-spotted salamander is not a threatened or endangered species, and their population is considered static. Some rare good news for wildlife!
All in all, the yellow-spotted salamander is unique in being able to photosynthesize. It has shattered previous perceptions and opened the idea that other vertebrates may also have a symbiotic relationship with algae. So there you have it— salamander embryos that take energy from the sun.
Thanks for your feedback!