Cars have revolutionized the world we live in, and fast cars have fascinated people since the very beginning -- oftentimes for no real reason other than fame and glory. This is perhaps truer now than at any time in the past; after all, even if you have the fastest car in the world, how often could you truly push it to the limit? Just to be clear, we're talking about production cars here, none of that rally things. Still, no matter the reason, we like fast cars, so let's learn a bit more about them. Here's a list of the fastest cars, decade by decade.
1880-1889 | Horse carriage | 10-30 mph (16-48 km/h)
I know, I know, this is not a car, it's a horse-drawn carriage -- but we needed a reference point. This is the Benz Motorwagen, one of the sleekest carriages ever made. There's no definite maximum speed for carriages, but since specially-bred horses can reach some 40 mph running free, it seems safe to say that 30 mph should be the top speed with the weight of the carriage and the passengers. It's a real piece of art and history, but let's move on to some real cars!
Fastest car in 1890-1899 | Stanley Runabout | 35 mph (56 km/h)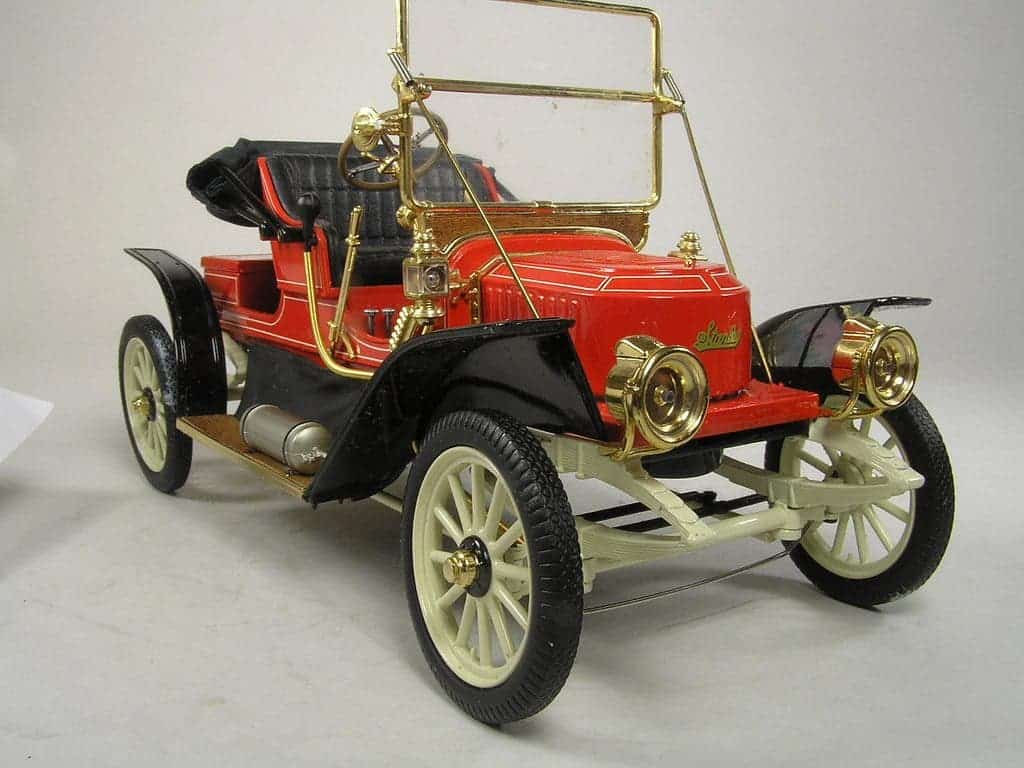 Oh yeah, now we're talking! F.E. and F.O. Stanley were twins born in Kingsland, Maine, on June 1, 1849. They operated a dry-plate photographic business in Massachusetts until they entered the car industry in 1896 with a splash. They developed this magnificent car with a steam engine, the best option considering the available technology at the time. Steam engines often have fewer than 25 moving parts, so this powerful engine for its time was quite simple in essence, though its complexity was impressive.
In 1897 the duo began producing automobiles in Massachusetts, selling over 200 by the fall of 1897. At the turn of the 20th century, this car wasn't fast by today's standards, but it was a sign of things to come. Now, the "Stanley steamer" conjures up romantic images of the early day of the car industry.
Fastest car in 1900-1909 | Mercedes-Simplex 60HP | 73 mph (117 km/h)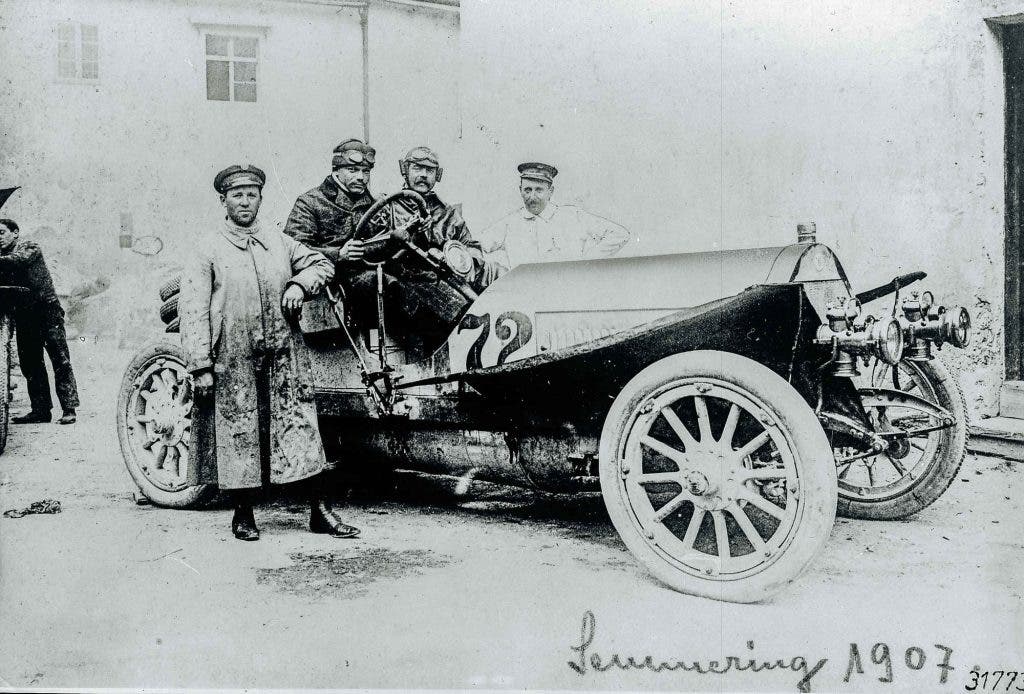 Already, some familiar names are popping up. The Mercedes Simplex was an automobile produced from 1902 to 1909 by the Daimler Motoren Gesellschaft (DMG, Daimler Motor Society, a predecessor of Daimler-Benz and Daimler-Chrysler). It continued the use of the Mercedes name as the brand of DMG, rather than Daimler.
This car featured powerful engines, with power ranging from 40 (at 1300 rpm) to 60 horsepower. It used a magneto-electric spark ignition system, with a single spray-nozzle carburetor. It represented quite a step forward at the time, being quite unlike any other vehicle in its day. Because of this, the Simplex quickly became popular with royalty, nobility, and the other creme de la creme of the day. Needless to say, this car cemented the dominance of Mercedes in the field of automobiles, a legacy the company carries to this day.
While also romantic by today's standards, the Mercedes Simplex was already a pretty fast car -- it would get the job done even today.
Fastest car in 1910-1919 | Austro-Daimler Prince Henry | 85 mph (136 km/h)
In 1911 Austro-Daimler began producing the Prinz Heinrich (in English: Prince Henry) model; this car featured an overhead cam 5,714-cc four-cylinder engine. The car's production figures suffered during the First World War as the 4,500 workers of Austro-Daimler contributed in large numbers to wartime production. Unfortunately, soon after that, the company began collapsing. Still, this car remains the epitome of the luxury and technological prowess of its time.
Luxurious and fast, the car was in short supply: only a few were ever manufactured.
Fastest car in 1920-1929 | Duesenberg Model J | 119 mph (191 km/h)
This decade brought yet another huge leap in terms of speed, with several cars taking strides in terms of maximum speed. The Duesenberg Model J, a luxury automobile made by Duesenberg, was the pinnacle of its time.
Created in 1928, the car was meant to compete with the most powerful and elegant cars of the time, and it did an amazing job at that. Unfortunately for the company, the car was introduced just a few years before the stock market crash that led to the Great Depression and was sold only until 1937. Although smaller than other engines of the time, it generated 265 hp. This made the car amazingly fast for its time. It was dominant and had all you could want in a high-end car. It could have become a staple, cherished to this day, if not for the circumstances of the time.
Fastest car in 1930-1939 | Duesenberg Model SJ | 140 mph (225 km/h)
The technical advances that came with the horrendous World War II also made their way into cars. By now, you're probably starting to notice a trend in how these cars looked like at the time.
The Duesenberg J was so dominant at its time that the company did what every respectable car company would do -- they pimped it out. The SJ had a  320 hp, inline, eight-cylinder engine with a centrifugal supercharger, a three-speed manual transmission, beam-type front, live rear axles with semi-elliptic leaf springs, and four-wheel vacuum-assisted hydraulic drum brakes. Interestingly enough, the car was initially designed for Mae West, who ultimately declined the design. The joke's on her, right?
Fastest car in 1940-1949 | Jaguar XK 120 | 132 mph (214 km/h)
Not every decade brought faster cars, and the '40s are a premier example.
Perhaps the best testament to how dominant the Duesenberg was at its time is that for the next decade, no one could create a faster car -- although, in all fairness, no one really cared about that during WWII. After the war, it was time for the Jaguar to rise to prominence. The XK was sold between 1948 and 1954. It was Jaguar's first sports car since the SS 100, which ceased production in 1940. For high speeds, the windshield had to be folded down, which must have given riders quite a thrill.
Fastest car in 1950-1959 | Aston Martin DB4 GT | 153 mph (246 km/h)
High speed and high class seem to go hand in hand, and the Aston Martin DB4 GT was the epitome of both. With supreme class and luxury, it was the undisputed ruler of the highways, and even today, they are sold at lavish auctions for dazzling prices. Due to the huge popularity, huge price tag, great look, and rarity of the DB4 GT, many replica cars have been constructed, and even those replicas sell extremely well.
The DB4 GT was itself a special, lightweight version of the DB4. It featured enclosed headlights and a thinner aluminum skin, and even ditched rear seats in some cases. If you want maximum speed, you have to sacrifice something.
Fastest car in 1960-1969 | Ferrari 365 GTB/4 "Daytona" | 174 mph (280 km/h)
Of course, no "Fastest" list would be complete without at least one Ferrari.
Better known as the Ferrari Daytona, The Ferrari 365 GTB/4 was a traditional front-engined, rear-drive car. The car achieved fame not only for being the fastest of its decade but also for being driven by Dan Gurney and Brock Yates in the inaugural Cannonball Baker Sea-To-Shining-Sea Memorial Trophy Dash. The event showcased not only the car's maximum speed but also its capacity to maintain high speeds over long periods of time.
The duo won with an average speed of 80.1 miles per hour (129 km/h), completing the distance from New York to L.A. in 35 hours 54 minutes (2,876 miles (4,628 km)).
Fastest car in 1970-1979 | Ferrari GT4 Berlinetta Boxer | 175 mph (281 km/h)
Ferrari continued to assert its dominance over the next decade as well. Amidst hotter and hotter competition, in which Lamborghini said its Countach could do 200 mph (and it couldn't), it was again Ferrari who took the crown. It's worth noting that no BB was ever originally sold in North America, as Enzo did not believe it to be worth the cost of complying with the extra environmental and safety regulations. Today, he'd probably sell it only in the US.
Ferrari seemed set to have the fastest car for years to come -- and they did.
Fastest car in 1980-1989 | Ferrari F40 | 202 mph (325 km/h)
Its direct competitor, the Porsche 959, was almost just as fast at 200 mph, but Ferrari again took the crown. An endless debate emerged about which one was better, and that debate still hasn't been answered today; but in terms of speed, the Ferrari F40 takes the crown.
The car debuted with a planned production total of 400 units, although the car proved to be so popular that three times more were produced.
Fastest car in 1990-1999 | McLaren F1 | 240 mph (386 km/h)
An emblematic car, the McLaren F1's speed was only limited by its engine rpm -- it was so aerodynamic that wind resistance was almost negligible.
It was so amazingly fast that it won the LeMans not only in its class but also in the prototype class, something which was unheard of for a streetcar -- to this date, this is considered one of the most incredible feats in motorsports. In 1994, the British car magazine Autocar stated in a road test regarding the F1, that "the McLaren F1 is the finest driving machine yet built for the public road" and that it "will be remembered as one of the great events in the history of the car, and it may possibly be the fastest production road car the world will ever see."
But it wasn't.
Fastest car in 2000-2009 | Shelby Super Cars (SSC) Aero | 257 mph (414 km/h)
The SSC Aero came with a bang, and to this day, it lost the title of 'fastest production car' by just a scratch. The SSC Ultimate Aero held the title of the fastest production car in the world from 2007 until the Bugatti Veyron came out in 2010. Simulation and testing at NASA's Virginia facility had shown the Ultimate Aero TT theoretically capable of attaining approximately 273 mph (439 km/h), enough to surpass the production car record-holding Bugatti Veyron's 253.7 mph (408.3 km/h).
Fastest car from 2010 | Bugatti Veyron 16.4 Super Sport | 268 mph (431 km/h)
The original version had a top speed of 407 km/h (253 mph), but the superspeed version went even further. The current Super Sport version of the Veyron is recognized by Guinness World Records as the fastest street-legal production car in the world. The Veyron features an 8.0-liter, quad-turbocharged, W16 cylinder engine, equivalent to two narrow-angle V8 engines bolted together. Each cylinder has four valves (for a total of 64), but the VR8 configuration of each bank allows two overhead camshafts to drive two banks of cylinders so only four camshafts are needed. It's a monumental car, and a spectacular engineering achievement by all standards.
An honorable mention goes to the Hennessey Venom GT, which recorded a top speed of 270.49 mph (435.31 km/h) -- but only in one direction (runs in both directions need to be achieved to compensate for the wind speed) and only 16 cars have been ever sold -- too little to be considered a production car.
As far as the fastest cars in general, not just production ones, we have two modern-day contenders worth taking a look at:
2011 - 2015 | Hennessey Venom GT | 270 mph (434 km/h)
Only 12 of these cars were ever produced, which definitely disqualifies them from being considered a 'production' vehicle. However, its characteristics are definitely worth its $1.2 million price tag.
Powered by a 1,200 horsepower, twin-turbocharged V8 engine, the Hennessey Venom GT achieved a top speed of 270.49 mph at the Kennedy Space Center on February 14, 2014. At the time, this made it the fastest car in the world, overtaking the Bugatti Veyron Super Sport by two miles per hour. The car goes from zero to 60 mph in 2.7 seconds.
2015 - today | Koenigsegg Agera RS | 278 mph (447 km/h)
The Agera RS was unveiled at the 2015 Geneva Motor Show, gathering quite a fair share of attention -- and for good reason.
This is the fastest car in the world today. The company tweeted back in November 2017 that the model achieved a world record of 277.9 mph, documenting the moment on video. All this performance comes from its twin-turbo V8, 1176 horsepower engine. It goes from 0 to 60 mph in 2.9 seconds, and from 0 to 249 mph in 33.29 seconds.
Of course, there's always a bit of debate when deciding what the fastest car is. It depends how you measure it and whether you accept wind speed or not, or what type of surface you test it on. In practice, other than the prestige of being the fastest, whether it's 444 km/h or 448 km/h makes extremely little difference. Slowly but surely, cars have become faster but now, they're becoming so fast that you can't really use all that speed. Even so, the appeal of fast cars is unlikely to go away anytime soon.
Thanks for your feedback!