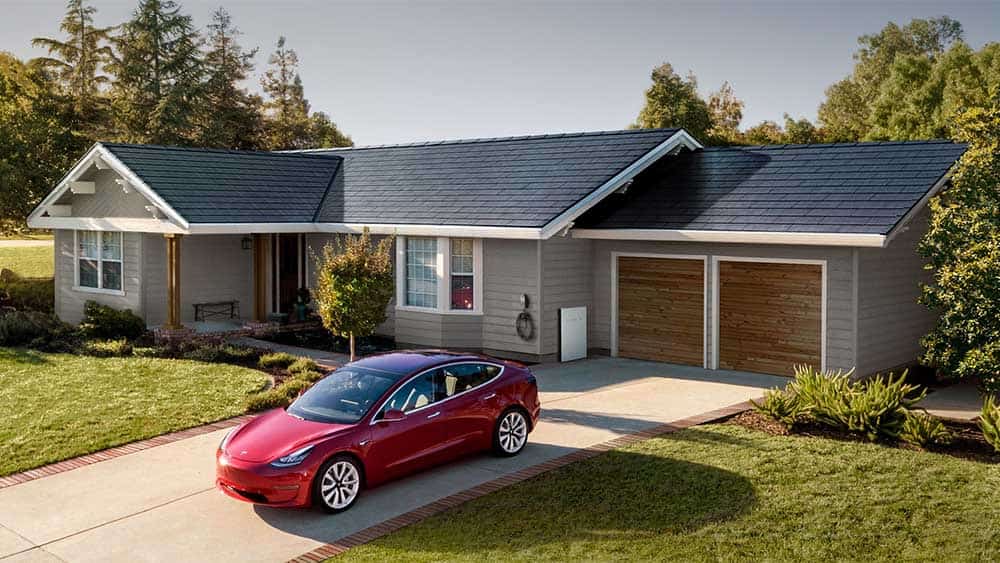 Solar roof tiles, also sometimes called 'solar shingles' or 'solar slates', are solar photovoltaic cells that double as roof tiles. This means they not only have the function of roof tiles but also look like them too, coming in various different shapes, colors, and textures to fit consumers' aesthetic preferences.
It's a pretty great concept, especially for homeowners on the fence about switching over to solar due to aesthetic reasons. Some people are fine with blue solar panels covering their roofs, while others simply loathe the idea.
Although they weren't the first to invent this technology, solar roof tiles have been made famous by Tesla. Tesla's solar roof was first unveiled in 2016, but it took a couple of years before they were actually installed onto people's roofs. But since 2021, a series of changes have left a lot of people a bit disappointed. The company changed the design of the tiles to speed up installation, but some people don't like the way these new tiles look. They've also significantly risen the price of installing the tiles by implementing a new pricing system that is dependent on the complexity of the roof -- how many chimneys, what's the pitch of the roof, and so on. Also, anyone who wants to install Tesla's solar roof is now forced to also buy Powerwall batteries for storing the generated power since the tiles now feed exclusively into Tesla's proprietary battery.
Needless to say, a lot of customers were not happy. But where there's a need, the market is there to fulfill it. Tesla wasn't the one who invented roof tiles that double as solar panels, and they sure aren't the only ones selling this kind of product. Furthermore, there are many places where Tesla's solar roof is simply not available. Let's take a look at what companies offer viable alternatives to Tesla's solar roof in 2023.
Product
Efficiency
Warranty
Price per kW
Tesla Solar Roof
Undisclosed (thought to be 18%-20%)
25 years
$6-$10
Luma Solar Roof
21%
25 years
$4-5
Certainteed Apollo II &
Apollo Tile II
15%-16%
25 years
$6-$7
SunTegra Solar Roof System
16%-17%
25 years
$4.5-5.5
Exasun X-tile and X-roof
18%
30 years
$4.5-$7
GB-Sol
15%-17%
25 years
$5.5
1. Luma Solar Roof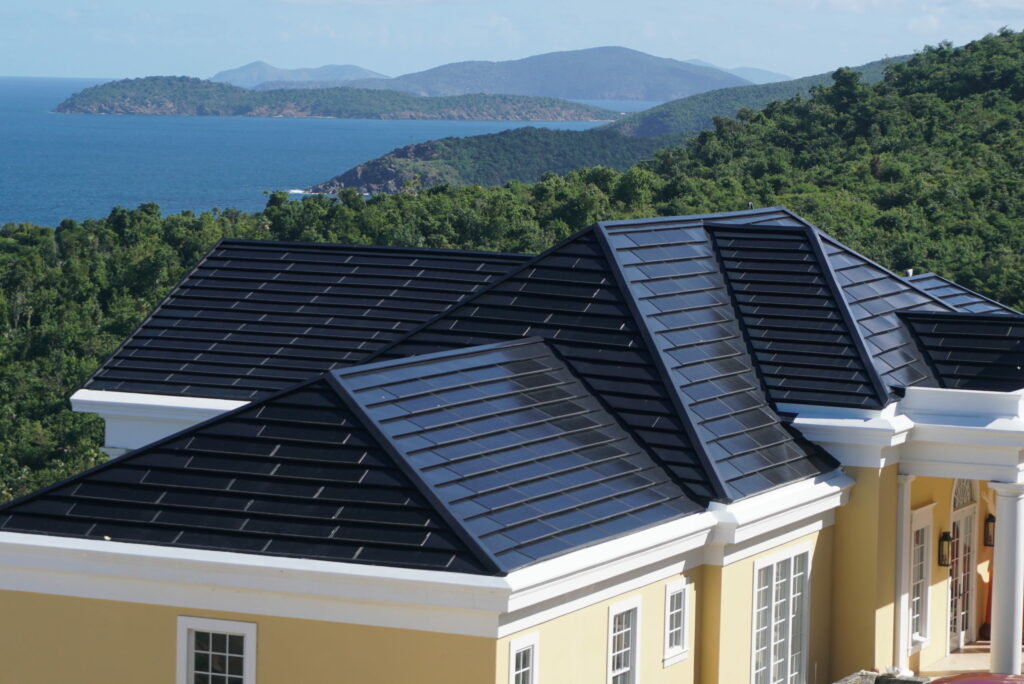 The Luma Solar Roof is a building-integrated photovoltaic (BIPV) system made by Luma Solar that is designed to replace traditional roofing materials with solar panels. The panels are designed to be aesthetically pleasing and can be installed on a new or existing roof.
Although Luma Solar is nowhere near as famous as Tesla, Luma is an important brand in the solar energy market and was actually the first to develop solar shingle systems in North America more than a decade ago.
Luma's solar shingle efficiency is around 22-24%, while Tesla's is 18-20%. A solar roof from either company will mix solar shingles and regular shingles. Luma's shingles are a bit larger than Tesla's, so you need fewer pieces to cover the same roof surface area than with Tesla's shingles.
Luma only offers a 5-year warranty on the photovoltaic components on their solar roofs. Beyond the photovoltaic warranty, both companies offer a 25-year power production warranty. Meanwhile, Tesla guarantees that their solar roofs will still be operating at least 80% efficiently after 25 years, or they will replace the roof.
The price of installing the Luma Solar Roof will also vary depending on the project's complexity, but the installation is much more flexible. While Tesla requires that your entire roof be replaced, Luma gives you the option of a partial roof upgrade.
If you have a typical home, a partial roof upgrade can set you back around $4-5 per watt with Luma solar shingles. Meanwhile, a Tesla roof costs anywhere between $6 and $10 per watt.
2. Certainteed Apollo II and Apollo Tile II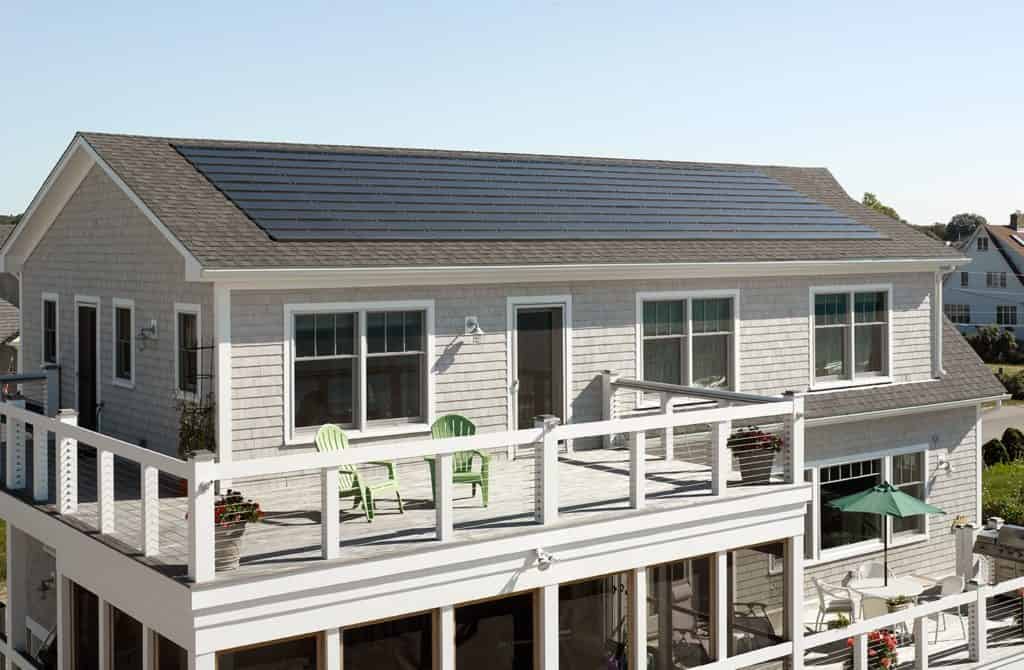 Certainteed offers two BIPV systems to choose from. The CertainTeed Apollo II is similar to the Tesla Solar Roof, in the sense that they serve as replacement tiles. If replacing your entire roof doesn't sound like an appealing option, Certainteed offers the Apollo Tile II, which is designed to blend into a new or existing concrete tile roof.
Both the Apollo II and the Apollo Tile II solar shingles have 14 monocrystalline cells with a total power of 70 W.
CertainTeed, unfortunately, doesn't post its prices, but we've found quotes posted online by other people between $6-$7 per watt.
3. SunTegra Solar Roof System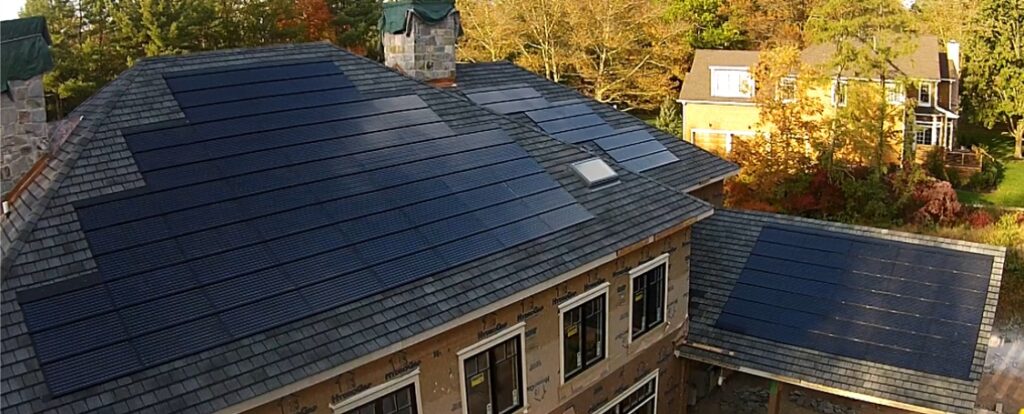 SunTegra's Solar Roof System is a BIPV designed to be installed on a new or existing roof. Their key innovation is a lower profile against the roof thanks to a proprietary system that requires 50% fewer parts than a standard rock-mounted solar system.
Thanks to its low profile that measures only three-quarters of an inch, SunTegra's tiles feature air channels on the backside of the module that keep the photovoltaic shingles cooler, thus improving efficiency.
The roof offers a limited power warranty of 25 years and a 10-year product warranty, and the shingle measures just under 53 inches by just over 23 inches.
SunTegra doesn't make specific pricing information available on their site, but we've found estimates posted by other people hovering in the $4.5 to $5.5 range.
4. Exasun X-tile and X-roof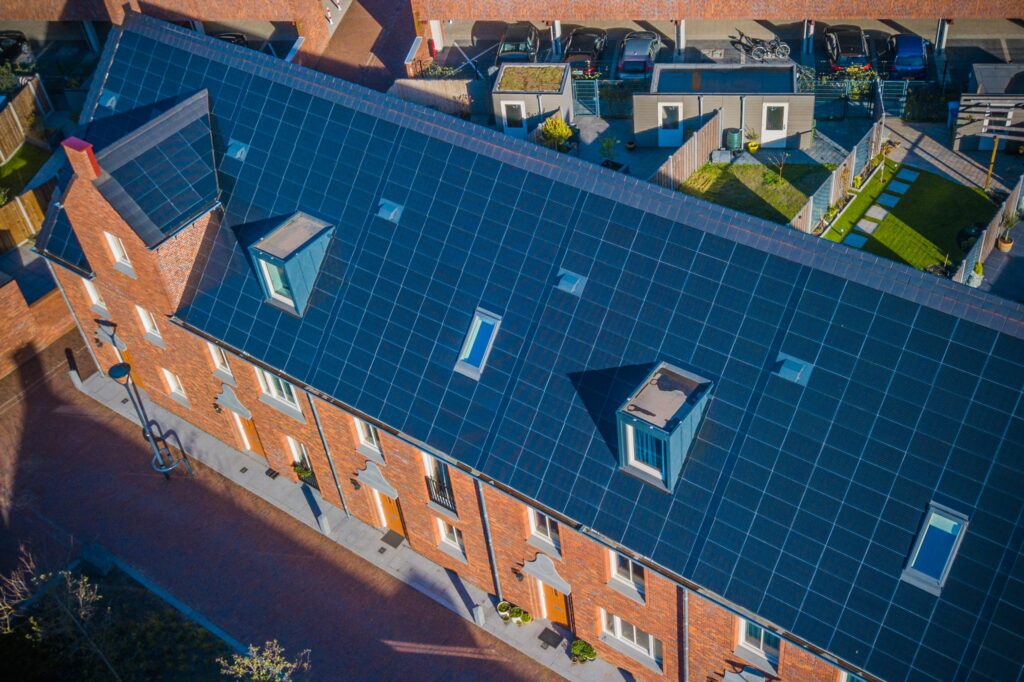 Netherlands-based Exasun offers two BIPV systems: the terracotta-like X-Tile can be installed on existing roofs and the X-Roof which is a complete roof replacement. Both systems have a rated efficiency of around 18%, on par with other solar roof systems.
The Exasun tiles are based on back-contact-on-glass technology and measure only 60 cm by 82 cm. The tiles come with 30-year product workmanship and linear power warranties.
5. GB-Sol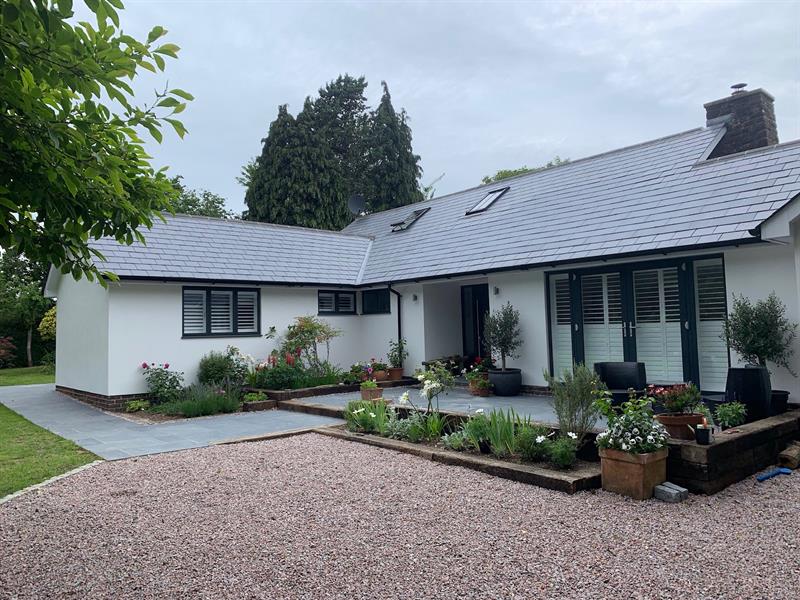 GB Sol's BIPV system is designed and manufactured in the UK -- and this shows. The blue-gray slate tiles are specifically designed to withstand heavy rain, hail, and anything the lovely British weather can throw at you. The cost per watt is around $5.5.
Their solar tiles, known as 'PV slates', come in just one style – "natural blue", designed to complement a slate roof. They're lighter than traditional tiles, weighing just 3.5kg per slate), meaning you could replace your roof without having to strengthen your property's structure. GB-Sol is exclusively available in the UK at this current time.
Solar roof tiles aren't for everyone but you can't go wrong with a classic
Not every household can afford to install a fancy solar roof with shingles that double as solar panels. In general, you can expect to pay 2-3 times more than when using traditional solar panels. Bear in mind the prices listed in this article do not include installation costs. But that doesn't mean you shouldn't go solar because there's nothing wrong with conventional solar panels attached to a home's roof. In fact, they're much cheaper and have a significantly higher efficiency than solar roof tiles.
It's important to consider your budget, energy needs, and aesthetic preferences when choosing a solar energy system for your home. It may also be helpful to speak with a solar energy professional or research online to compare the various options and determine which one is the best fit for you.
Thanks for your feedback!