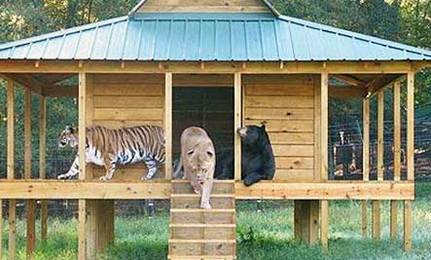 They've known each other basically all their lives, but the early days weren't happy at all. Found during a police raid at the home of a drug lord, Leo, Shere Khan and Baloo tied an extremely unusual bond.
They now live their peaceful lives together in the habitat built specifically for them at Noah's Ark rescue center in Locust Grove, Ga., where they can even go out for a swim in the creek near their... house.
"To our knowledge, this is the only place where you'll find this combination of animals together, they are our BLT, (bear, lion and tiger)," said Diane Smith, assistant director of the zoo at Noah's Ark.
"It is wonderful and magical to see a giant American black bear put his arm around a Bengal tiger and then to see the tiger nuzzle up to the bear like a domestic cat. When Leo wakes up, the three of them mess around for most of the day before they settle down to some food."
Thanks for your feedback!