The Danish-based Lego is one of the big companies in the world that's actually making large scale efforts to lower its carbon footprint and run more sustainable business. They don't seem to be doing it out of a fake corporate responsibility ethos either. Lego is actually innovating. I mean, when a company says it wants to ditch the raw material its business is based on for something that's more expensive and which might not even exist yet, you know they actually mean it.
Over three quarters of Lego's carbon footprint is produced before the company even has the chance to do anything. That's because the Lego bricks it manufactures - some 60 billion each year - are made from oil which takes up a lot of energy and emissions to extract and refine.
"You could say that it's a logical place for us to find a way of reducing our environmental footprint," says Roar Trangbaek, press officer for Lego Group. "If you look at our CO2 footprint as a company, the majority of our impact comes from offscreen activities—basically what happens before we receive any raw materials in our factory."
Lego is already massively investing in wind energy to offset its emissions and uses FSC-certified cardboard for toy boxes. The impact is minimal at best, though. Lego needs some innovation to make that leap that really amounts to something. At this kind of level, you also need to be prepared to invest a lot of money, too.
The company says it invests $150 million in a new research center focused on finding the next sustainable material its Lego bricks could be made of. Lego says that its bricks will likely still be plastic, so it should look and feel the same. This is in important. What should change is how that plastic is made or where the raw material for the ABS comes from.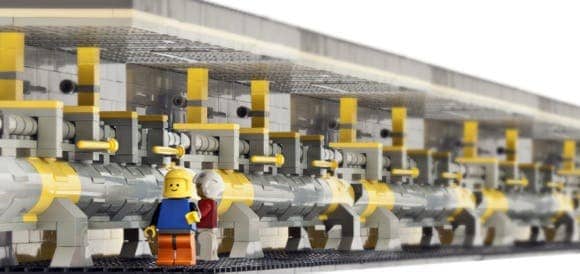 "We're looking at every opportunity out there that's more sustainable than what we have today," Trangbeak says. That might involve recycled plastics, though it's probably more likely to be something bio-based, because of the challenges of recycling.
The problem with recycling plastic, however, is quality control. You don't really know the quality of the plastic or what else's inside when you process materials coming from who knows where.
"Last year, we recycled the equivalent of around 70 million Lego bricks," he says. "But we can do that within our factories because we can ensure the product is still in a pristine condition. We can't compromise on the product quality or product safety—that means we know exactly what material we're using and what's inside of it," says Trangbeak.
If they find the right material, it's not only Lego that benefits. There are hundreds of toy manufacturers. There are thousands of companies that make plastic products, for that matter.
"In a global perspective, we're only a small player," Trangbeak says. "We make 60 billion Lego bricks each year, but the bricks are quite small, and the total consumption of plastics is small. So we can't solve it alone. Hopefully we can inspire others to do it as well."
Thanks for your feedback!